---
If you have a group B driver's license, you can drive a car with a trailer with a maximum weight of 750 kg (or even a little higher, but the trailer + car must not weigh more than 3.5 tons). Therefore, if you want to attach something larger to the vehicle, you need to extend your driver's license. There are 2 variants: group "BE" and "B96".
What you'll be driving in our school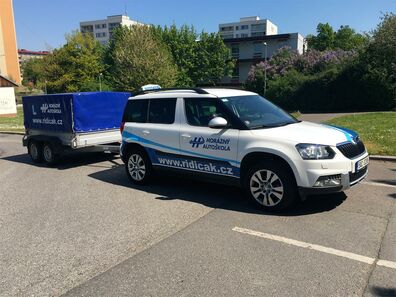 Škoda Yeti 2.0 TDI 4x4 + trailer Agados VZ27
Group "B96":
The "B96" group driver's license is ideal for those who only need to drive a car with a trailer with a total weight (i.e. including the car) of up to 4250 kg.
The main advantage of this driver's license is that you do not have to take any tests and by law, you don't even have to take any course. All you have to do is pass the so-called "supplementary driving exam". Of course, we will be happy to provide you with training if you want to practice your skills before the exam.
Practice
2 lessons: vehicle driving training
The final exam consists of a practical driving exam.
---
How to apply for training
Download the application and medical form and fill them out. You'll need to visit your general practitioner with the medical form. After that, deliver both of the forms to our driving school. There we'll plan your training together.
There's no need to bring cash to the driving school, we'll email you the payment instructions.
When can you start
Both theoretical and practical training typically starts within the week from submitting your application.
You can apply for training as early as 18 months before reaching the required minimum age (18 years). However, for practical reasons, we recommend you don't start training sooner than 6 months before your 18th birthday.

Conditions for getting the driver's license
minimum age of 18 years
valid medical fitness confirmation
successfully passing the final exam
permanent or temporary residency in the Czech Republic or studying in the Czech Republic for at least 6 months
not being under a sanction or penalty of prohibition to drive
not a holder of a driver's license from another EU country
Price list
Trailers
B96
Car + trailer (no theory test)
BE, B96
Aditional driving lesson
The price list is valid as of 15. 7. 2022. All prices include complete instruction and training as specified by the law as well as the 21% VAT.
Prices for driving courses include the costs of the final exam. The administrative fee in the amount of 700 CZK that must be paid to the Municipal Authority and the fee for translating the exam is not included. All teaching and training lessons have 45 minutes, as stipulated by the law.
You can pay cash, via a bank transfer, or with a credit card.