---
What you'll be able to drive
With a CE category driving license, you can drive a truck with a trailer weighing more than 750 kg. If you also have a driver's license for a bus (category D), you will also be entitled to drive a bus with a trailer.
What you'll drive in our school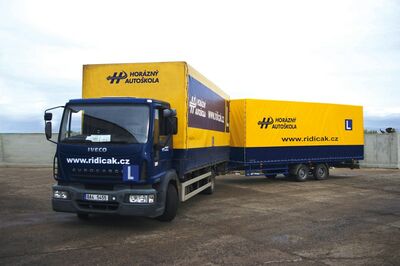 Iveco Eurocargo 120E24 + tandem trailer BGV NPV-9
Driver's license requirements
minimum age of 21 years (18 years under specific conditions, see below)
valid medical fitness confirmation
successful final exam in the driving school
permanent or temporary residency in the Czech Republic or study in the Czech Republic for at least 6 months
not being under a prohibition to drive and not having 12 demerit points
not having a driver's license from another EU member country
You can also obtain a driver's license for category CE at 18:
a) for the purpose of conducting the initial training for a professional certificate (professional competence),
b) if you hold a professional certificate (i.e. professional competence) and have undergone extended initial training of 280 hours
How to apply for training
Download the application and medical form and fill them out. You'll need to visit your general practitioner with the medical form. After that, deliver both of the forms to our driving school. There we'll plan your training together.
There's no need to bring cash to the driving school, we'll email you the payment instructions.
What will your training look like
Theory
1 lesson: vehicle operation regulations
1 lesson: vehicle driving and maintenance
2 lessons: driving theory and principles of safe driving
1 lesson: first-aid preparation
1 lesson: revisions and tests
Practice
8 lessons: vehicle driving training
2 lessons: hands-on maintenance training
2 lessons: practical first-aid training
Final Exam
The date of your exam typically directly follows after finishing your training. All formalities connected to it will be taken care of by us, so you don't have to worry.
The exam is conducted by an examiner of Prague's Magistrate and consists of 3 parts:
a written test on driving regulations and first-aid (30 minutes)
an oral examination from vehicle control and maintenance
a practical driving exam
You can only take the practical driving exam and the oral exam after you've passed the written test. If you don't pass the test, you'll have to repeat the entire exam.
More information about the exam

Pricing

Trailers over 750 kg
C+E
trailers and semitrailers for trucks
C+E
trailers and semitrailers for trucks - one drive
The price list is valid as of 15. 7. 2022. All prices include complete instruction and training as specified by the law as well as the 21% VAT.
Prices for driving courses include the costs of the final exam. The administrative fee in the amount of 700 CZK that must be paid to the Municipal Authority and the fee for translating the exam is not included. All teaching and training lessons have 45 minutes, as stipulated by the law.
You can pay cash, via a bank transfer, or with a credit card.